Juniper Networks vMX Virtual Router

Carrier-Grade Virtual Routing for Enterprises and Service Providers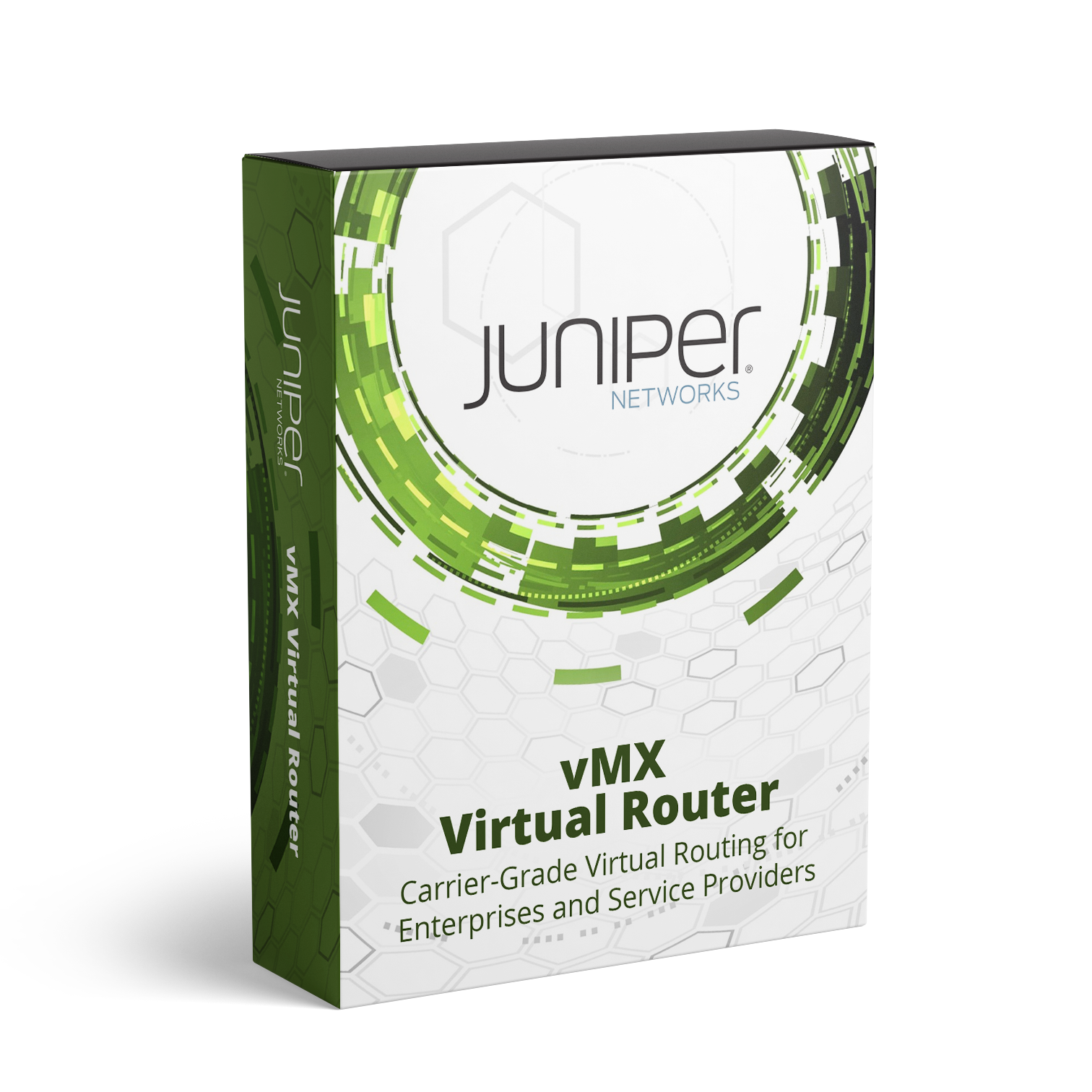 Juniper Products
Perpetual Bandwidth License
Perpetual 100 Mbps Bandwidth License
Supports 50 VPN instances (both L2 and L3 VPN technologies), and 128,000 routing information base (RIB) and forwarding information base (FIB) entries
#VMX-100M
List Price:
$1,013.00
Our Price: $815.47
Perpetual 250 Mbps Bandwidth License
Supports 50 VPN instances (both L2 and L3 VPN technologies), and 128,000 routing information base (RIB) and forwarding information base (FIB) entries
#VMX-250M
List Price:
$2,125.00
Our Price: $1,710.63
Perpetual 500 Mbps Bandwidth License
Supports 50 VPN instances (both L2 and L3 VPN technologies), and 128,000 routing information base (RIB) and forwarding information base (FIB) entries
#VMX-500M
List Price:
$4,125.00
Our Price: $3,320.63
Click here to jump to more pricing!
Overview:
The Juniper Networks® vMX Virtual Router, available as licensed software for deployment on x86-based servers, Amazon Web Services (AWS), AWS GovCloud, and Microsoft Azure supports a broad range of broadband, cloud, cable, mobile, and enterprise applications. The vMX control plane is powered by Juniper Networks Junos® operating system, the same OS that powers the entire Juniper Networks MX Series Universal Routing Platform portfolio, and the forwarding plane is powered by vTrio, Juniper's programmable Trio chipset microcode optimized for execution in x86 environments. With Junos OS and vTrio, the vMX offers advanced routing, quality of service (HQoS), and switching features that ensure the agile and highly efficient delivery of the widest variety of services.
The feature-rich vMX, built on more than 20 years of Juniper routing investment and experience, increases service agility by enabling users to quickly introduce and scale services by spinning up new routing instances on demand, and by supporting non-disruptive service introductions in parallel with current services. This approach eliminates the risk, complexity, and delay associated with reconfiguring and requalifying your current infrastructure for new services. Furthermore, the vMX has a granular licensing model that accommodates uncertain forecasts, enabling users to purchase only the amount of capacity they need, reducing the risk of stranded capital.
The vMX also eliminates the cost, complexity, and delay associated with qualifying, maintaining, and sparing physical routing elements. This enables rapid service deployment and scale-out of services, which are critical success factors when expanding into niche markets and new geographies. Importantly, these same attributes help overcome issues related to equipment acquisition for lab trials and release certification.
Importantly, the vMX offers feature consistency with the physical MX Series platforms, including support for high-performance virtual route reflection as well as virtual broadband network gateway (BNG) capabilities, including L2TP network server/Layer 2 Tunneling Protocol (LNS/L2TP), Point-to-Point Protocol over Ethernet (PPPoE), Dynamic Host Configuration Protocol (DHCPv4/DHCPv6), Pseudowire Headend Termination (PWHT) support, and static and dynamic (RADIUS) subscriber interface support. Together, these sophisticated features help you create advanced, virtualized, and distributed cloud-grade networks.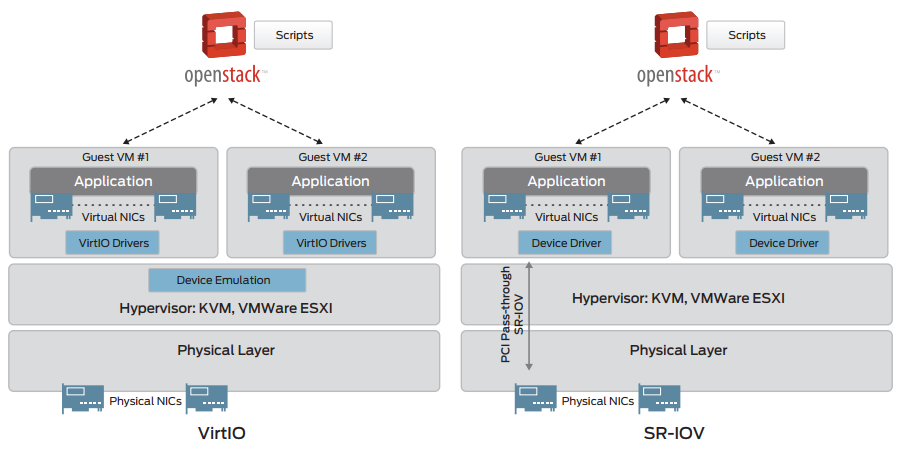 The vMX architecture for VirtIO and SR-IOV.
Key Features
Virtualized MX (vMX) disaggregation
Control-plane scale
Full-featured, scalable routing support
Integrated with Tier-1 cloud provider infrastructure
Product Overview
Service providers, cloud operators, and enterprises need highly agile, scalable, and automated cloud-grade networks in order to increase revenue, contain expenses, and achieve operational excellence. Network Functions Virtualization (NFV), which decouples network functions from service-specific elements so they can run as software on x86 servers, is a critical technology for achieving these goals.
The vMX Virtual Router is a virtualized MX Series Universal Routing Platform that helps network operators of all types improve customer experience and profitability by increasing network and service agility and accelerating time to market for new services, while streamlining their operations environment.
Pricing Notes:
Pricing and product availability subject to change without notice.
Juniper Products
Perpetual Bandwidth License
Perpetual 100 Mbps Bandwidth License
Supports 50 VPN instances (both L2 and L3 VPN technologies), and 128,000 routing information base (RIB) and forwarding information base (FIB) entries
#VMX-100M
List Price:
$1,013.00
Our Price: $815.47
Perpetual 250 Mbps Bandwidth License
Supports 50 VPN instances (both L2 and L3 VPN technologies), and 128,000 routing information base (RIB) and forwarding information base (FIB) entries
#VMX-250M
List Price:
$2,125.00
Our Price: $1,710.63
Perpetual 500 Mbps Bandwidth License
Supports 50 VPN instances (both L2 and L3 VPN technologies), and 128,000 routing information base (RIB) and forwarding information base (FIB) entries
#VMX-500M
List Price:
$4,125.00
Our Price: $3,320.63
Base Perpetual Bandwidth Licenses
Base Perpetual 1 Gbps Bandwidth License
Supports 16 L3VPN instances and no other VPN features, and 256,000 RIB and FIB entries
#VMX-BASE-1G
List Price:
$2,000.00
Our Price: $1,610.00
Base Perpetual 5 Gbps Bandwidth License
Supports 16 L3VPN instances and no other VPN features, and 256,000 RIB and FIB entries
#VMX-BASE-5G
List Price:
$2,750.00
Our Price: $2,213.75
Base Perpetual 10 Gbps Bandwidth License
Supports 16 L3VPN instances and no other VPN features, and 256,000 RIB and FIB entries
#VMX-BASE-10G
List Price:
$3,375.00
Our Price: $2,716.88
Base Perpetual 40 Gbps Bandwidth License
Supports 16 L3VPN instances and no other VPN features, and 256,000 RIB and FIB entries
#VMX-BASE-40G
List Price:
$10,625.00
Our Price: $8,553.13
Advanced Perpetual Bandwidth Licenses
Advanced Perpetual 1 Gbps Bandwidth License
Supports 1 million RIB entries, 16 L3VPN instances, and 250 VPN instances (both L2 and L3 VPN technologies)
#VMX-ADV-1G
List Price:
$3,875.00
Our Price: $3,119.38
Advanced Perpetual 5 Gbps Bandwidth License
Supports 1 million RIB entries, 16 L3VPN instances, and VPN instances (both L2 and L3 VPN technologies) up to system scale
#VMX-ADV-5G
List Price:
$5,375.00
Our Price: $4,326.88
Advanced Perpetual 10 Gbps Bandwidth License
Supports 1 million RIB entries, 16 L3VPN instances, and VPN instances (both L2 and L3 VPN technologies) up to system scale
#VMX-ADV-10G
List Price:
$6,875.00
Our Price: $5,534.38
Advanced Perpetual 40 Gbps Bandwidth License
Supports 1 million RIB entries, 16 L3VPN instances, and VPN instances (both L2 and L3 VPN technologies) up to system scale
#VMX-ADV-40G
List Price:
$15,000.00
Our Price: $12,075.00
Premium Perpetual Bandwidth Licenses
Premium Perpetual 1 Gbps Bandwidth License
Supports 2 million RIB entries, and 250 VPN instances (both L2 and L3 VPN technologies)
#VMX-PRM-1G
List Price:
$5,500.00
Our Price: $4,427.50
Premium Perpetual 5 Gbps Bandwidth License
Supports 2 million RIB entries, and 250 VPN instances (both L2 and L3 VPN technologies)
#VMX-PRM-5G
List Price:
$7,500.00
Our Price: $6,037.50
Premium Perpetual 10 Gbps Bandwidth License
Supports 2 million RIB entries, and VPN instances (both L2 and L3 VPN technologies) up to system scale
#VMX-PRM-10G
List Price:
$9,500.00
Our Price: $7,647.50
Premium Perpetual 40 Gbps Bandwidth License
Supports 2 million RIB entries, and VPN instances (both L2 and L3 VPN technologies) up to system scale
Subscription Licenses for Perpetual Bandwidth License
1 Year Subscription License for VMX-100M
Includes all features in full scale
#VMX-100M-1YR
List Price:
$550.00
Our Price: $442.75
1 Year Subscription License for VMX-250M
Includes all features in full scale
#VMX-250M-1YR
List Price:
$1,088.00
Our Price: $875.84
1 Year Subscription License for VMX-500M
Includes all features in full scale
#VMX-500M-1YR
List Price:
$2,250.00
Our Price: $1,811.25
Subscription Licenses for Base Perpetual Bandwidth License
1 Year Subscription License for VMX-BASE-1G
Includes Limited IP FIB and Basic L2 Functionality. No VPN Features
#VMX-BASE-1G-1YR
List Price:
$1,013.00
Our Price: $815.47
1 Year Subscription License for VMX-BASE-5G
Includes Limited IP FIB and Basic L2 Functionality. No VPN Features
#VMX-BASE-5G-1YR
List Price:
$1,500.00
Our Price: $1,207.50
1 Year Subscription License for VMX-BASE-10G
Includes Limited IP FIB and Basic L2 Functionality. No VPN Features
#VMX-BASE-10G-1YR
List Price:
$1,875.00
Our Price: $1,509.38
1 Year Subscription License for VMX-BASE-40G
Includes Limited IP FIB and Basic L2 Functionality. No VPN Features
#VMX-BASE-40G-1YR
List Price:
$5,750.00
Our Price: $4,628.75
Subscription Licenses for Advanced Perpetual Bandwidth License
1 Year Subscription License for VMX-ADV-1G
Includes Full Scale L2/L2.5, L3 Features. Includes EVPN and VXLAN. Only 16 L3VPN Instances
#VMX-ADV-1G-1YR
List Price:
$2,125.00
Our Price: $1,710.63
1 Year Subscription License for VMX-ADV-5G
Includes Full Scale L2/L2.5, L3 Features. Includes EVPN and VXLAN. Only 16 L3VPN Instances
#VMX-ADV-5G-1YR
List Price:
$2,875.00
Our Price: $2,314.38
1 Year Subscription License for VMX-ADV-10G
Includes Full Scale L2/L2.5, L3 Features. Includes EVPN and VXLAN. Only 16 L3VPN Instances
#VMX-ADV-10G-1YR
List Price:
$3,625.00
Our Price: $2,918.13
1 Year Subscription License for VMX-ADV-40G
Includes Full Scale L2/L2.5, L3 Features. Includes EVPN and VXLAN. Only 16 L3VPN Instances
#VMX-ADV-40G-1YR
List Price:
$7,625.00
Our Price: $6,138.13
Subscription Licenses for Premium Perpetual Bandwidth License
1 Year Subscription License for VMX-PRM-1G
Includes all Features in BASE (L2/L2.5, L3, EVPN, VXLAN) and Full Scale L3VPN Features
#VMX-PRM-1G-1YR
List Price:
$3,000.00
Our Price: $2,415.00
1 Year Subscription License for VMX-PRM-5G
Includes all Features in BASE (L2/L2.5, L3, EVPN, VXLAN) and Full Scale L3VPN Features
#VMX-PRM-5G-1YR
List Price:
$4,000.00
Our Price: $3,220.00
1 Year Subscription License for VMX-PRM-10G
Includes all Features in BASE (L2/L2.5, L3, EVPN, VXLAN) and Full Scale L3VPN Features
#VMX-PRM-10G-1YR
List Price:
$5,125.00
Our Price: $4,125.63
1 Year Subscription License for VMX-PRM-40G
Includes all Features in BASE (L2/L2.5, L3, EVPN, VXLAN) and Full Scale L3VPN Features
#VMX-PRM-40G-1YR
List Price:
$10,125.00
Our Price: $8,150.63