Juniper Networks AppSecure

Deliver Threat Visibility, Enforcement, Control & Protection over the Network.

Juniper Products
AppSecure Subscriptions for SRX100 and SRX110
1-year subscription for AppSecure and IPS updates for SRX100 and SRX110
#SRX1XX-APPSEC-A-1
List Price:
$475.00
Our Price: $382.38
More pricing below, click here!
AppSecure Overview:
AppSecure is a suite of next-generation security capabilities for Juniper Networks SRX Series Services Gateways that utilize advanced application identification and classification to deliver greater visibility, enforcement, control, and protection over the network.
By working in conjunction with the other security services of the SRX Series, AppSecure provides a deep understanding of application behaviors and weaknesses that prevent application borne threats that are difficult to detect and stop. As an integrated service on the world's fastest services gateways, AppSecure provides the scalability to meet the requirements of the most demanding environments. AppSecure runs on the Branch and Data Center SRX Series Services Gateways.
Application Visibility with AppTrack
By collecting byte, packet, session, and time, statistics while accurately identifying hundreds of applications, AppTrack gives network administrators detailed analysis of application data. AppTrack quickly and easily provides visibility into the types of applications traversing through the SRX Series gateway and allows classification based on risk level, user ID, zones, source, and destination addresses, as well as volumes.
This information can be used to assess adherence to usage policies, to help address bandwidth management, or to simply report on the most active users and applications. Juniper STRM Series Security Threat Response Managers can generate reports based on AppTrack application log data that extend their flexible and extensible methods to analyze data from a centralized location and take action.
Application Enforcement with AppFW
AppFW allows administrators to create fine grained application control policies to allow or deny traffic based on dynamic application name or group names rather than static IP/port information. It is designed to simplify security policies by using application white lists and black lists, as well as to define what actions to perform on matched traffic while taking default action against all other traffic.
Application Control with AppQoS
With the increased use of web-based customer relationship management (CRM), enterprise resource planning (ERP), and other business tools, network administrators need a way to prioritize business critical traffic over the network. AppQoS provides the ability to meter and mark traffic based on the application policies set by the administrator. This allows lower priority Web traffic to continue when network bandwidth allows, but ensures that mission critical traffic is delivered when usage levels surge. AppQoS is currently supported only for on SRX Series Services Gateways for the data center.
Application Protection with AppDoS
AppDoS distinguishes attacking botnet traffic from legitimate client traffic based on application-layer metrics and remediates against botnet attacks. Employing a multi-stage approach that includes server connection monitoring, deep protocol analysis, and bot-client classification, AppDoS provides the ability to detect subtle changes in traffic patterns and client behaviors that could indicate an application-level denial-of-service (DoS) attack. Once suspicious activity is detected, AppDoS can issue an alert, block offending IP addresses, or completely drop irregular sessions and packets. AppDos is typically deployed with the SRX Series' integrated IPS service to increase protection against malicious attacks.
Application Protection with IPS
IPS tightly integrates Juniper's latest and most advanced security features with the network infrastructure to provide threat mitigation and protection from a wide range of attacks and vulnerabilities. IPS subscribes to the results of application identification and contextualization to determine the appropriate protocol decoding and attack objects to use for the permitted incoming traffic that will be processed by the IPS software services module.
Features & Benefits:
| Features: | Benefits: |
| --- | --- |
| Application awareness and classification | Enables all AppSecure capabilities by exposing application information to advanced, next-generation security services for increased visibility, control and protection. |
| Nested application support | Provides enhanced protection against modern evasion techniques that utilize trusted services. |
| User-role based policies | Superior protection and easier policy management as user and user groups reduce the number of policies and rules needed to account for other elements such as location, device, and IP address. |
| SSL inspection | Combined with AppSecure, provides visibility and protection against threats embedded in SSL encrypted traffic. |
| Purpose built platform | Delivers unrivaled performance and flexibility to protect service provider, enterprise and data center environments. |
| Junos OS service integration on SRX Series | Provides consolidation and optimization of application-aware security services for maximum scale. |
Network Deployments: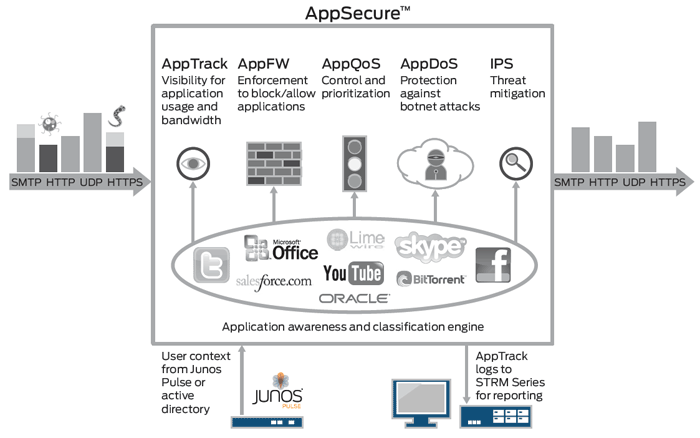 Figure 1: The application awareness and classification engine improves efficiency by inspecting network traffic and publishing the results for use by all of the AppSecure services.
Specifications:
Specifications - Branch SRX Series Services Gateways
SRX100/
SRX110
SRX210
SRX220
SRX240
SRX550
SRX650
Maximum AppSecure throughput2
90 Mbps
250 Mbps
300 Mbps
750 Mbps
1.5 Gbps
1.9 Gbps
Application identification
>900 applications
Maximum IPS throughput
75 Mbps
65 Mbps
80 Mbps
230 Mbps
800 Mbps
1 Gbps
Maximum connections per second
1,500
1,500
1,800
7,400
27,000
35,000
Maximum sessions
12,000
24,000
32,000
48,000
375,000
512,000
Specifications - Data Center SRX Series Services Gateways
SRX1400
SRX3400
SRX3600
SRX5600
SRX5800
Maximum AppSecure throughput2
4 Gbps
16 Gbps
25 Gbps
50 Gbps
100 Gbps
Application identification
>900 applications
AppDoS protocols
>60 protocols + 600 contexts
Maximum IPS throughput
2 Gbps
6 Gbps
10 Gbps
15 Gbps
30 Gbps
Maximum connections per second
40,000
180,000
180,000/
300,0003
380,000
380,000
Maximum sessions
0.5 million
2.25 million/
3 million3
2.25 million/
6 million3
9 million
12.5 million/
20 million4
SSL inspection
Yes
1 AppQoS is currently supported on SRX Series Services Gateways for the data center. AppQoS support on SRX Series Services Gateways for the branch forthcoming in the near future.
2 Throughput numbers based on HTTP traffic with 44 kilobyte transaction size.
3 Additional Extreme License required for 3 million and 6 million sessions.
4 To achieve more than 12.5M CP sessions on SRX5800, use software knob available from 10.4 or 11.4 and later.
Pricing Notes:
Pricing and product availability subject to change without notice.
Juniper Products
AppSecure Subscriptions for SRX100 and SRX110
1-year subscription for AppSecure and IPS updates for SRX100 and SRX110
#SRX1XX-APPSEC-A-1
List Price:
$475.00
Our Price: $382.38
AppSecure Subscriptions for SRX210
1-year subscription for AppSecure and IPS updates for SRX210
#SRX210-APPSEC-A-1
List Price:
$575.00
Our Price: $462.88
AppSecure Subscriptions for SRX220
1-year subscription for AppSecure and IPS updates for SRX220
#SRX220-APPSEC-A-1
List Price:
$1,100.00
Our Price: $885.50
AppSecure Subscriptions for SRX240
1-year subscription for AppSecure and IPS updates for SRX240
#SRX240-APPSEC-A-1
List Price:
$1,850.00
Our Price: $1,489.25
AppSecure Subscriptions for SRX550
1-year subscription for AppSecure and IPS updates for SRX550
#SRX550-APPSEC-A-1
List Price:
$5,500.00
Our Price: $4,427.50
AppSecure Subscriptions for SRX650
1-year subscription for AppSecure and IPS updates for SRX650
#SRX650-APPSEC-A-1
List Price:
$7,750.00
Our Price: $6,238.75