Juniper Networks WLA Series Wireless LAN Access Point

WLA Series Wireless LAN Access Points provide indoor or outdoor 802.11a/b/g/n connectivity for a variety of situations and installation sizes. All WLA Series products provide the bandwidth controls and performance to service demanding mobility applications, such as voice and video over wireless.
Features:
Encryption and access security
Intelligent switching
Band steering
Client load balancing
Dynamic authorization
QoS and bandwidth management
Spectrum and location scanning
Wireless intrusion prevention
Configured and controlled by Juniper WLC Wireless LAN controllers, all WLA Series access points can offload the controllers by inspecting and forwarding traffic, performing encryption and enforcing security locally at the access point. This results in optimized traffic flows, radically reduced latency, and massive scalability.
WLA Series Wireless Access points can be managed collectively by a cluster of controllers, an approach that allows for hitless failover with zero downtime, providing unmatched session availability.
WLA Series

Indoor
Dual, selectable 802.11a/n (5 GHz) or 802.11b/g/n (2.4 GHz) operation
2 x 2 MIMO, 2 Streams
1 x 10/100/1000 POE (RJ-45)
4 x Omni-directional (Spatial diversity)
64 SSIDs supported

Indoor
Dual with 802.11a/n (5 GHz) and 802.11b/g/n (2.4 GHz) concurrent operation
2 x 2 MIMO, 2 Streams
1 x 10/100/1000 POE (RJ-45)
4 x Omni-directional (Spatial diversity)
64 SSIDs supported

Indoor
Dual with 802.11a/n (5 GHz) and 802.11b/g/n (2.4GHz) concurrent operation
3 x 3 MIMO, 3 Streams
1 x 10/100/1000 POE (RJ-45)
6 x Omni-directional (Spatial diversity)
64 SSIDs supported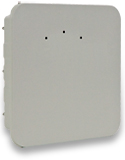 Outdoor
Dual with 802.11a/n (5 GHz) and 802.11b/g/n (2.4 GHz) concurrent operation
3 x 3 MIMO, 3 Streams
1 x 10/100/1000 (8-pin DIN)
64 SSIDs supported