Juniper Networks QFX5210-64C

64 x 40/100GbE QSFP+/QSFP28 Switch Throughput: Up to 12.8 Tbps (bidirectional)

Juniper Products
QFX Series Ethernet Switch with AC Power Supplies
QFX5210, 64 QSFP+/QSFP28 ports, reduced latency, redundant fans, 2 AC power supplies, back-to-front airflow, Flex Transform
(Hardware only; software services sold separately)
QFX5210, 64 QSFP+/QSFP28 ports, reduced latency, redundant fans, 2 AC power supplies, front-to-back airflow, Flex Transform
(Hardware only; software services sold separately)
QFX5210, 64 QSFP+/QSFP28 ports, reduced latency, redundant fans, 2 AC power supplies, back-to-front airflow, with SONiC
(Hardware only; software services sold separately)
QFX5210, 64 QSFP+/QSFP28 ports, reduced latency, redundant fans, 2 AC power supplies, front-to-back airflow, with SONiC
(Hardware only; software services sold separately)
Click here to jump to more pricing!
Overview:
The QFX5210 Switch is a flexible, 64-port, fixed-configuration switch designed for spine-and-leaf applications in next-generation IP fabric networks. Featuring line-rate, high-density QSFP+/QSFP28 ports supporting 10GbE, 25GbE, 40GbE, and 100GbE connections, the QFX5210 offers an advanced Layer 2, Layer 3, and MPLS feature set. This allows network operators to build large, high-density IP fabrics that support network virtualization and intelligent traffic forwarding based on proven, Internet-scale technology, while enabling easy upgrades to 25GbE servers.
Additionally, the QFX5210-64C-S platform includes support for SONiC, continuing Juniper's commitment to disaggregation, allowing customers to innovate quickly and easily while simplifying operations.
Product Description
Network operators are increasingly deploying scale-out spine-and-leaf IP fabric architectures built with fixed-configuration switches to support growing east-west traffic in the data center. The Juniper Networks QFX5210 Switch is a next-generation, fixed-configuration spine/leaf switch that offers flexible, cost-effective, high-density 10GbE, 25GbE, 40GbE, and 100GbE interfaces for IP fabric networks, providing deployment versatility, investment protection, and future-proofing for today's data centers. The QFX5210 Switch's high port density also contributes to simplified Clos architectures, eliminating network tiers while reducing complexity and cost.
Like other Juniper Networks QFX Series Switches, the QFX5210 supports advanced L2, L3, and MPLS features. For large public cloud providers—among the first to adopt 25GbE servers to meet explosive workload growth—the QFX5210 enables very large, dense, and fast IP fabrics based on proven Internet scale technology.
The QFX5210 runs the same reliable, high-performance Junos operating system used by network operators around the world.
QFX5210 Deployment Options
Table 1 shows some of the many QFX5210 deployment options, including top-of-rack access as well as spine-and-leaf configurations in a centralized or distributed gateway architecture.
| Port Combinations | Deploymen |
| --- | --- |
| 64x100GbE | Spine/leaf |
| 96x25GbE + 8x100GbE | 25GbE access |
The QFX5210 can be positioned as a top-of-rack device in a centralized gateway architecture (also known as centrally routed bridging, or CRB). Figure 1 shows the QFX5210 deployed as an access switch with the Juniper Networks QFX10000 line of Switches acting as the spine device configured as a central gateway. In this topology, the QFX10000 can also be configured as a collapsed spine and edge device, acting as a central gateway for Ethernet VPN (EVPN)-Virtual Extensible LAN (VXLAN), MPLS, and other tunneling protocols. The 100GbE ports on the QFX5210 can be channelized to support 4x25GbE or 4x10GbE downlinks.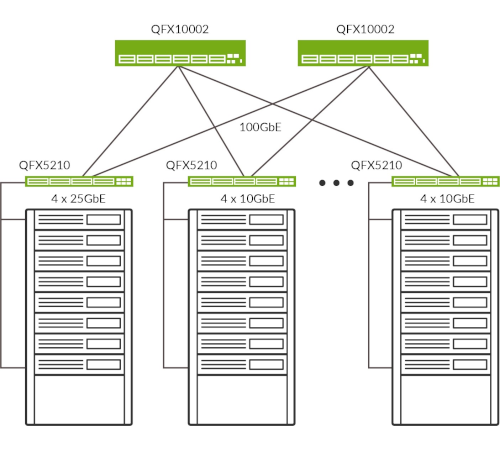 Figure 1: QFX5210 and QFX10002 in a leaf-spine deployment with centralized gateway
The QFX5210 can also be positioned as a lean spine device in a distributed gateway architecture (also known as edge-routed bridging, or ERB). Figure 2 shows QFX5120 switches deployed as access switches configured as distributed gateways and QFX5210 switches deployed as spine switches.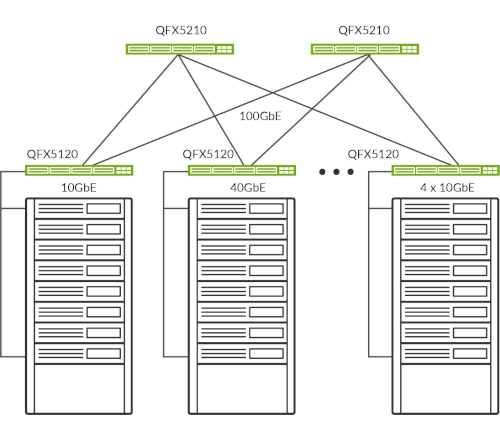 Figure 2: QFX5120 and QFX5210 leaf-spine deployment with distributed gateway
Pricing Notes:
Pricing and product availability subject to change without notice.