Juniper Networks QFX5100-24Q-AA

Application Acceleration switch

Sorry, this product is no longer available, please contact us for a replacement.
Click here to jump to more pricing!
Overview:
The QFX5100-24Q-AA Application Acceleration switch speeds the performance of critical time-sensitive applications by processing them within the network fabric using the QFX-PFA-4Q Packet Flow Accelerator (PFA) expansion module, which features a highperformance 320 Gbps fieldprogrammable gate array (FPGA) with 1 million logical elements. The unique combination of 320 Gbps PFAs and a 2.56 Tbps Packet Forwarding Engine (PFE), all powered by Juniper's robust Junos operating system, makes the QFX5100-24Q-AA the most customizable switch in the industry.
Product Description
The Juniper Networks QFX5100-24Q-AA Application Acceleration switch is a compact, 1 U, high-density 40GbE data center switch. The base unit features 24 quad small formfactor pluggable plus transceiver (QSFP+) ports; with the addition of an optional QFXPFA-4Q Packet Flow Accelerator (PFA) expansion module, the switch can morph into an intelligent application acceleration system. Alternatively, the QFX5100-24Q-AA can expand to support 32 QSFP+ ports by installing two four-port 40GbE expansion modules; when scaled to 32 ports, the QFX5100-24Q-AA supports wire-speed performance with an aggregate throughput of 2.56 Tbps or 1.44 Bpps per switch.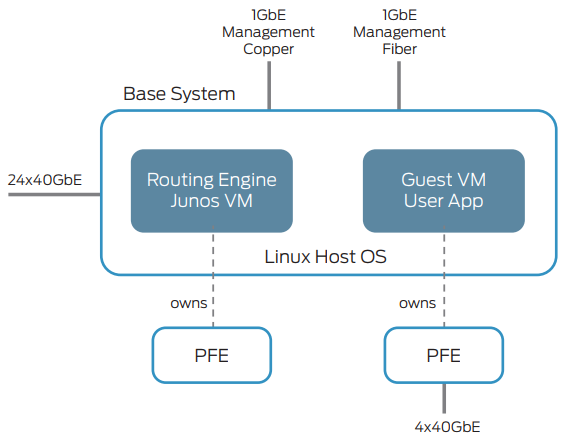 QFX5100-24Q-AA software architecture.
To support application processing on the QFX5100-24Q-AA, the CPU subsystem is enhanced with a quad-core Intel CPU with 32 GB DRAM and additional storage capacity through an onboard 128 GB solid-state drive (SSD). The enhanced CPU provides dedicated resources for applications running in the guest virtual machines (VMs) on the switch and also enables greater flexibility for custom programming of the PFA module.
The QFX-PFA-4Q PFA is a four-port 40GbE expansion module for QFX5100-24Q-AA featuring an Altera Stratix V 320 Gbps FPGA with 1 million logical elements. The PFA supports 160 Gbps high-speed internal connectivity to the Packet Forwarding Engine (PFE) on the QFX5100-24Q-AA platform, while four front-panel QSFP+ ports enable direct external connections to the PFA subsystem.
The QFX5100-24Q-AA CPU subsystem also includes a two-port 10GbE network interface card (NIC) device to support faster downloads of FPGA bit streams into the PFA module, as well as to route between the PFE and the Routing Engine. The PFA module supports 24 GB SDRAM (DDR3) for packet memory and 72 MB of quad data rate static RAM (SRAM) (QDR2+) for low-latency processing. The module also features a high precision oscillator with external packet-per-second interfaces for precision timing support. As an application development module, the QFX-PFA-4Q is intended for customers requiring customized packet processing. However, Juniper does not provide or develop any packaged or customized solutions for the QFX-PFA module.
Similar to other QFX5100 switches, the QFX5100-24Q-AA supports rich Layer 2, Layer 3, and MPLS features. The QFX5100 also runs the same reliable, high-performance Juniper Networks Junos operating system used by Juniper Networks QFX Series switches, EX Series Ethernet Switches, Juniper routers, and SRX Series Services Gateways, ensuring a consistent implementation and operation of control plane features across the Juniper infrastructure. With its diverse set of deployment options, including Layer 3 and spine and leaf, the QFX5100 line is the universal building block for data center switching architectures, enabling users to easily adapt as requirements change over time.
Pricing Notes:
Pricing and product availability subject to change without notice.
Juniper Products
QFX Series Modules
4-port QSFP+ expansion module for EX4600
#QFX-EM-4Q
List Price:
$6,838.00
Our Price: $5,504.59
Advanced Feature Licenses
Advanced feature license for IS-IS, BGP, MPLS for QFX5100-24Q and QFX5100-96S
#QFX5100-HDNSE-LIC
List Price:
$10,400.00
Our Price: $8,372.00
Spare
8-port SPF+/SFP expansion module for EX4600
#EX4600-EM-8F
List Price:
$4,199.00
Our Price: $3,380.20
AC 650 W PSU, front-to-back airflow for EX4600-48S
#JPSU-650W-AC-AFO
List Price:
$1,836.00
Our Price: $1,477.98
AC 650 W PSU, back-to-front airflow for EX4600-48S
#JPSU-650W-AC-AFI
List Price:
$1,981.00
Our Price: $1,594.71
Blank for QFX5100 Expansion Slot
#QFX5100-EM-BLNK
List Price:
$323.00
Our Price: $260.02
QFX5100, Fan Module for PSU side to Built in Port Side Air Flow
#QFX5100-FAN-AFI
List Price:
$684.00
Our Price: $550.62
QFX5100, Fan Module PSU Side to Built in Port Side Air Flow
#QFX5100-FAN-AFO
List Price:
$684.00
Our Price: $550.62
Optics and Transceivers
QSFP+ 40GBASE-eSR4 40 gigabit optics, 850 nm for up to 300 m transmission on MMF
#QFX-QSFP-40G-ESR4
List Price:
$1,531.00
Our Price: $1,232.46
QSFP+ 40GBASE-SR4 40 gigabit optics, 850 nm for up to 150 m transmission on MMF
#QFX-QSFP-40G-SR4
List Price:
$864.00
Our Price: $695.52
QSFP+ Cable Assy, 1 m, 30 AWG, passive, programmable ID
#QFX-QSFP-DAC-1M
List Price:
$385.00
Our Price: $309.93
QSFP+ Cable Assembly, 3 m, 30 AWG, passive, programmable ID
#QFX-QSFP-DAC-3M
List Price:
$513.00
Our Price: $412.97
QSFP+ to SFP+ 10GbE direct attach breakout copper (twinax copper cable) 1 m
#QFX-QSFP-DACBO-1M
List Price:
$513.00
Our Price: $412.97
QSFP+ to SFP+ 10GbE direct attach breakout copper (twinax copper cable) 3 m
#QFX-QSFP-DACBO-3M
List Price:
$769.00
Our Price: $619.05