Juniper Networks MX480

Agile 3D Universal Edge Router for Service Provider and Enterprise Applications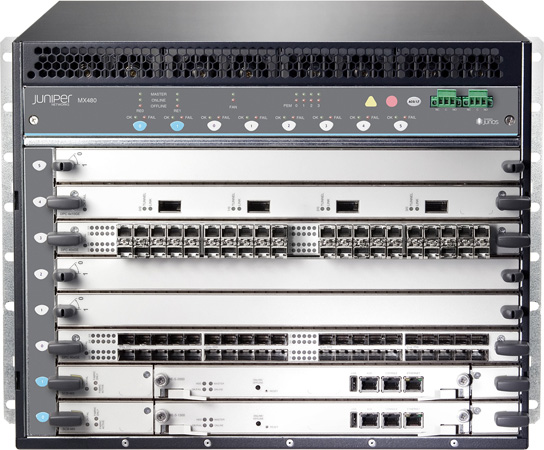 Juniper Products
MX Series Base Bundles
MX480 8 Slot Base 3 Chassis with AC Power Supply
MX480 8 Slot Base Chassis with 1 Fan Tray, 3 AC Power Supplies, 1 SCB, 1 RE
Click here to jump to more pricing!
Overview:
The SDN-ready MX480 3D Universal Edge Router delivers high performance, reliability, and scalability for service provider and cloud applications, enabling the delivery of advanced business and residential applications and services. At just eight rack units (8 U), the MX480 offers 5.76 Tbps of system capacity in support of high-density 10GbE, 40GbE, and 100GbE interfaces, and SONET/SDH, ATM, and PDH connectivity.
The high-performance MX480 is packed with highly scalable routing, switching, security, and service features that enable revenue-generating applications, network consolidation, and service convergence. Key features include support for a wide range of L2/L3 VPN services and advanced broadband network gateway functions, along with integrated routing, switching, and security services.
Powered by Junos OS and the programmable Trio chipset, the MX480 is deployed in mission-critical service providers and enterprise networks worldwide, helping network operators transform their networks—and their businesses—to thrive in our hyper-connected world.
Product Description
In the midst of worldwide digital transformation, consumers rely on networks more than ever. Global e-commerce sales are growing 20 percent annually; more than 300 hours of video are uploaded to YouTube every minute,1 and analysts expect 26 billion Internet of Things devices to be generating data by 2020. These trends are straining traditional service provider and enterprise networks—and budgets—to the breaking point.
Powered by the Junos operating system and the programmable Trio chipset, MX Series 3D Universal Edge Routers provide powerful routing, switching, security, and services features that help network operators transform their networks—and their businesses—in a hyperconnected world.
The continuous expansion of mobile, video, BYOD, and cloud-based services is disrupting traditional networks and negatively impacting the businesses that rely on them. While annual double-digit bandwidth growth requires massive resource investments to prevent congestion and accommodate unpredictable traffic spikes, capturing return on that investment is elusive. Emerging Internet of Things communications promise even greater network challenges in the near future.
At the same time, traditional operations environments are increasingly out of touch with consumer and business requirements for rapid service delivery and cloud-like network experiences. At the same time, issues related to monitoring and managing transitions are placing additional stress on already strained budgets and personnel. And nascent technologies like Network Functions Virtualization (NFV) and SDN introduce an entirely new set of operational questions.
Our hyper-connected world demands more agile, automated, and scalable networks. Now more than ever, network operators need to transform their networks—and their operations environments—to accommodate this reality.
Utilizing state-of-the-art software and hardware innovations, Juniper Networks MX Series 3D Universal Edge Routers are helping network operators successfully transform their networks and services. Powered by the Juniper Networks Junos operating system and the programmable Trio chipset, MX Series routers offer a rich set of IP/MPLS services, consistent low latency, and wire-rate forwarding at scale, while providing the reliability needed to meet strict service-level agreements (SLAs).
An Agile Family of Edge Routers
Agility was the overarching design principle for the MX Series portfolio, and our MX Series 3D Universal Edge Routers were built from the ground up to support a "universal set" of edge applications. This approach helps Juniper customers rapidly respond to evolving business and technical requirements without sacrificing their current investments; it also simplifies operations and extends return on investment. This agility starts with the programmable Trio chipset, which is unparalleled in the industry, giving the MX Series routers the ability to add support for new features and protocols without upgrading hardware. Additionally, features like the Juniper Extension Toolkit provide modern programming languages for customization.
The MX Series 3D Universal Edge Router portfolio consists of a broad range of physical and virtual platforms that share a common architecture and feature set, enabling service providers and enterprises to select the right size platform to match their unique business goals and scale, density, resiliency, space and power considerations, and value-added service requirements.
The MX2020, MX2010, and MX2008 are ideal for large service provider and cloud networks, cable applications, and converged edge and core architectures.
The MX960 is ideal for large service provider and cloud networks, cable applications, and mobile service cores.
The MX480 is ideal for midsize service provider, cloud/data center, and cable applications, and enterprise cores.
The MX240 is ideal for smaller service provider and cable sites, data center interconnect, and enterprise WANs.
The MX104 is a temperature-hardened, space-efficient router that is ideal for mobile aggregation and enterprise WAN applications.
The MX5, MX10, MX40, and MX80 are space- and powerefficient routers optimized for enterprise WAN, data center interconnect, branch aggregation, and campus applications.
This agility is evident in the wide variety of MX Series use cases that have been proven in the world's most demanding networks, including:
Business Edge: MX Series routers support the broadest range of L2/L2.5/L3 VPN services available today, in combination with multilayer, multiprotocol reliability to ensure that customer SLAs are met under all network conditions.
Internet/Peering Gateway: MX Series routers support the high performance, reliability, scale, and density needed to efficiently peer with Internet and other service provider networks.
Broadband Network Gateway (BNG): MX Series routers offer the highest subscriber density and most sophisticated broadband edge features, including hierarchical quality of service (HQoS) features, available in the industry.
Universal SDN Gateway: MX Series routers deliver a comprehensive solution for interconnecting virtual and physical networks—as well as between virtual networks operating with different technologies—with support for Multiprotocol BGP (MBGP), dynamic tunnels using MPLSoGRE or Virtual Extensible LAN (VXLAN) encapsulation, virtual routing and forwarding (VRF) tables or E-VPNs, and NETCONF, along with the mechanisms required to send traffic between VRF and global routing tables based on configuration and policy.
Data Center and Cloud Edge: MX Series routers are the most flexible data center/cloud edge routers in the industry, with support for multiple overlay encapsulations, including VXLAN, Network Virtualization using Generic Routing Encapsulation (NVGRE), MPLSoUDP, MPLSoGRE, 802.1BR, SR-MPLS, and SR-V6.
Enterprise WAN: Large enterprises and government agencies worldwide use MX Series routers to build their own overlay network over a service provider's Layer 2 or MPLS network, using encapsulation technologies such as MPLSoGRE, VXLAN, and IPsec for secure transport.
Universal Metro/Aggregation: MX Series routers offer a full suite of routing and switching features, allowing network operators to choose a deployment model that best fits their business and technical needs. These routers can be deployed as IP/IP VPN edge routers, Ethernet VPN (EVPN) and virtual private LAN service (VPLS) provider edge (VPLS-PE) routers, MPLS label-switching (LSR) routers, and as Layer 2 Ethernet switches or Layer 3 IP routers.
Mobile Backhaul: In addition to switching, routing, and security features, MX Series routers support highly scalable and reliable hardware-based timing that meets the strictest LTE requirements, including Synchronous Ethernet for frequency and the Precision Time Protocol (PTP) for frequency and phase synchronization. In addition, the MX104 is ETSI 300-compliant for deployment in mobile applications.
Pricing Notes:
Pricing and product availability subject to change without notice.