Juniper Networks EX9214 Ethernet Switch

Programmable, flexible and scalable modular Ethernet core switches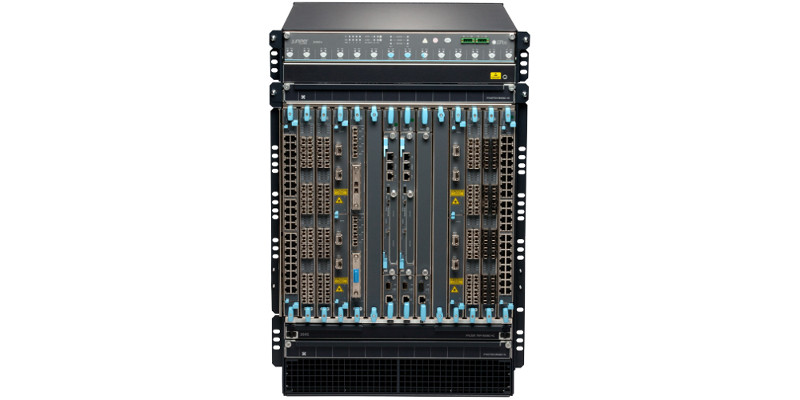 Juniper Products
EX9214 Base Units
Base EX9214 system configuration: 14-slot chassis with passive midplane and 2x fan trays, 1x EX9200-RE2 Routing Engine, 2x Switch Fabric-2 modules, 3x 4,100 W AC PSUs, and all necessary blank panels
Base EX9214 system configuration: 14-slot chassis with passive midplane and 2x fan trays, 1x EX9200-RE2 routing engine, 2x EX9200-SF3 modules, 3x 4100W AC PSUs
Click here to jump to more pricing!
EX9200 Overview:
The EX9200 line of Ethernet switches provides a programmable, flexible, and scalable foundation for delivering mission-critical applications in enterprise campus and data center core environments.
EX9200 switches simplify the deployment of cloud applications, server virtualization, and rich media collaboration tools in enterprise campus and data center core and aggregation environments.
In the enterprise campus, the EX9200 enables collaboration and provides simple and secure access for the delivery of mission-critical applications. In the data center, it simplifies operations to align the network with fast-changing business requirements.
The EX9200 switches also serve as the foundation for the Junos Fusion Enterprise architecture, a new standards-based approach for creating an open, highly scalable switch fabric for the enterprise campus. Junos Fusion Enterprise dramatically simplifies campus deployments by collapsing the entire network into a single management point, with the EX9200 as its core. Junos Fusion Enterprise can also serve as the shared core for enterprise campus environments that have on-premise data centers.
Three EX9200 switches are available: the EX9204, EX9208, and EX9214. The EX9200 chassis deliver up to 240 Gbps (full duplex) per slot. A pass-through midplane design supports capacity of up to 13.2 Tbps for built-in migration to next-generation deployments. Any combination of 1GbE, 10GbE, and 40GbE interfaces can be used, and the switches include support for 100GbE cards when available.
Pricing Notes:
Pricing and product availability subject to change without notice.
Juniper Products
EX9214 Base Units
Base EX9214 system configuration: 14-slot chassis with passive midplane and 2x fan trays, 1x EX9200-RE2 Routing Engine, 2x Switch Fabric-2 modules, 3x 4,100 W AC PSUs, and all necessary blank panels
Base EX9214 system configuration: 14-slot chassis with passive midplane and 2x fan trays, 1x EX9200-RE2 routing engine, 2x EX9200-SF3 modules, 3x 4100W AC PSUs
EX9214 Base TAA Units
Base EX9214 TAA system configuration: 14-slot chassis with passive midplane and 2x fan trays, 1x EX9200-RE2 routing engine, 2x switch fabric-2 modules, 3x 4100W AC PSUs, and all necessary blank panels
Licenses
Advanced Feature License for EX9214
EX9214 Mid Scale License to Enable 512K ARP Entries (only 1 License needed per chassis)
EX9208 Base Accessories
EX9214 14-Slot Chassis with Passive Midplane