Juniper Networks MX10004

Provide Performance that Scales With Your Services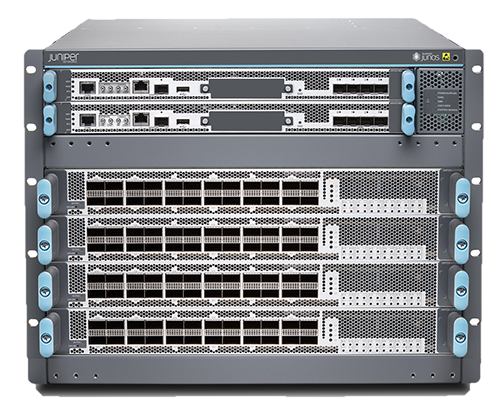 Sorry, this product is no longer available, please contact us for a replacement.
Overview:
Increasingly sophisticated technology users are seeking highly responsive and customizable cloud-like online experiences and services that align with their unique needs and interests, creating more traffic that consumes increasing amounts of network bandwidth.
Unfortunately, traditional hardware-centric edge routers lack the programmability and scale required to allow network operators to profitably meet these market demands, limiting their competitiveness, constraining their revenue and market share growth, and increasing their CapEx, OpEx, and TCO. To overcome these challenges, service providers and cloud operators need software-centric edge solutions that address current demand while offering investment-protecting evolution to emerging technologies such as mobility, Internet of Things (IoT), and the continued growth of cloud networking.
The Juniper Networks® MX10000 line of Universal Routing Platforms includes the 7 RU, 38.4 Tbps-capable MX10004 supporting up to 9.6 Tbps per slot, the 13 RU, 76.8 Tbps-capable MX10008 supporting up to 9.6 Tbps per slot and the 21 RU, 38.4 Tbps-capable MX10016 supporting up to 2.4 Tbps per slot. They offer dense 1GbE, 10GbE, 25GbE, 40GbE, 50GbE, and 100GbE interfaces, and the MX10004 and MX10008 add 400GbE support. This enables service providers and cloud operators to confidently build the best networks across data centers, business edge, and cloud markets. The MX10000 line shares common chassis components with equivalent Juniper Networks PTX Series Packet Transport Routers and QFX Series Switches; using specific software and line cards, the universal chassis can be successfully deployed as a core router, IP edge router, or switch, reducing the burden on network operators to qualify multiple platforms.
The MX10000 line of modular platforms is powered by the same programmable Juniper Trio chipset and the same Juniper Networks Junos® operating system that powers the rest of the Juniper Networks MX Series Universal Routing Platform portfolio, leveraging nearly two decades of Juniper R&D investments and innovations that have transformed the economics of networking. Leveraging common Packet Forwarding Engine (PFE) and software ensures complete feature consistency and a common operational and management framework. This consistency reduces the cost, risk, and complexity of network evolution, helping current MX Series customers rapidly qualify and deploy the MX10000 line of modular platforms.
Key Features
Up to 76.8 Tbps capacity
4, 8, or 16 slots
Dense 100 GbE and 400 GbE
800 GbE ready
Rich multiservice edge, timing features
Product Overview
Juniper's secure automated distributed cloud blueprint enables service providers to react quickly to changing market conditions in the cloud era, accelerating service delivery with world-class products and innovative architectural components. The MX10000 line of Universal Routing Platforms is an integral part of this solution. With its massive scale and efficiency, the MX10000 line is ideal for space- and power-constrained environments. It redefines per-slot economics, enabling customers to do more with less while simplifying network design, reducing OpEx, and enabling the profitable delivery of a broad range of business, residential, mobile, cable, data center, and cloud services—all while seamlessly supporting traditional and emerging network architectures. The MX10000 chassis shares a common set of components with other Juniper products; various line cards and software are available to satisfy specific core routing, edge routing, and switching applications.