Juniper Networks MX10003

5G Universal Routing Platform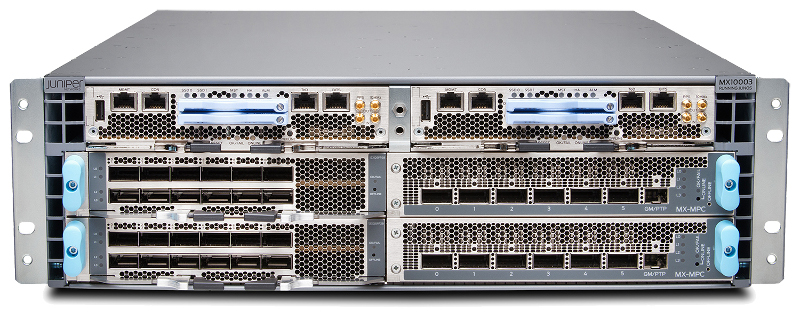 Juniper Products
MX10003 Base Units
MX10003 base 2-slot chassis
*includes 1 RE, 4 fan trays, 4 power supplies, and 1 EMI door with air filter assembly
MX10003 premium 2-slot chassis
*includes 2 REs, 4 fan trays, 6 power supplies, and 1 EMI door with air filter assembly
MX10003 Spare Chassis
MX10003 chassis, spare
#JNP10003-CHAS
List Price:
$13,250.00
Our Price: $10,666.25
Click here to jump to more pricing!
Overview:
The service-centric MX10003 is a space- and power-optimized routing platform that helps service providers and cloud operators address long-term traffic, subscriber, and services growth. It provides ultra-high density and throughput in only three rack units (3 U).
With 4.8 Tbps of throughput, the MX10003 supports up to 144 10GbE interfaces, 36 40GbE interfaces, or 24 100GbE interfaces in a single chassis. Its high performance and density makes it ideal for a wide range of business and residential services, as well as mobile and cloud applications. The MX10003 can be deployed for business VPNs, next-generation broadband multiplay, high-volume Internet, Metro Ethernet services, and data center internetworking.
The MX10003 offers standards-based and hardware-accelerated CUPS user plane capabilities with 3GPP-Sx interoperability, delivering ultra-efficient mobile 5G performance at scale. Additionally, the MX10003 supports sophisticated timing, MACsec encryption, and advanced automation and telemetry capabilities that lay the groundwork for autonomous networks.
The MX10003 also delivers the highest levels of network availability with resiliency features that include control plane redundancy and N+1 power supply module redundancy. Additionally, Virtual Chassis technology supports chassis-level redundancy while allowing users to manage two routers as a single element.
Pricing Notes:
Pricing and product availability subject to change without notice.
Juniper Products
MX10003 Base Units
MX10003 base 2-slot chassis
*includes 1 RE, 4 fan trays, 4 power supplies, and 1 EMI door with air filter assembly
MX10003 premium 2-slot chassis
*includes 2 REs, 4 fan trays, 6 power supplies, and 1 EMI door with air filter assembly
MX10003 Spare Chassis
MX10003 chassis, spare
#JNP10003-CHAS
List Price:
$13,250.00
Our Price: $10,666.25
MX10003 Routing Engines (REs)
MX10003 limited encryption RE, spare
MX10003 MICs
12x100GbE/12x40GbE/48x10GbE MACsec MIC
MX10003 Fan Trays
Universal fan tray, 3 U
#JNP-FAN-3RU
List Price:
$2,000.00
Our Price: $1,610.00
MX10003 Power Supply Modules
Universal AC power supply, 1600 W, spare
#JNP-PWR1600-AC
List Price:
$2,498.00
Our Price: $2,010.89
Universal DC power supply, 1100 W, spare
#JNP-PWR1100-DC
List Price:
$3,608.00
Our Price: $2,904.44