Juniper Networks EX6210 Ethernet Switch

96-port system: 10-slot chassis with passive backplane, 1x fan tray, 1x switch routing engine with switch fabric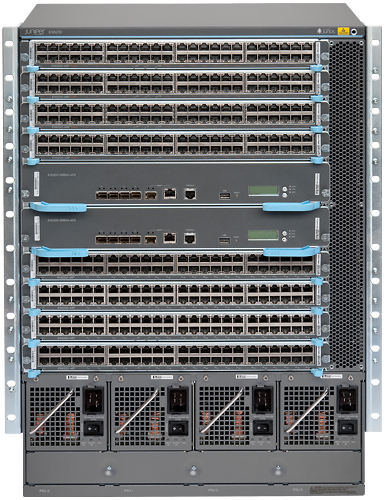 Sorry, this product is no longer available, please contact us for a replacement.
More pricing below, click here!
EX6210 Overview:
The EX6200 line of Ethernet switches delivers a scalable, resilient and high-performance wiring closet solution for enterprise campus deployments. The EX6200 is also an ideal fit for data center access deployments using end-of-row designs.
The EX6210 is a 10-slot chassis designed to support a variety of highly flexible network configurations. Two of the slots hold Switch Fabric Routing Engine (SRE) modules, while the remaining eight slots are dedicated for I/O line cards. Optional configurations allow an additional line card to be housed in an SRE slot*, enabling users to choose between higher port densities or redundant SREs.
Two EX6200 48-port 10/1000/1000BASE-T line cards are available, with and without support for the IEEE 802.3af Power over Ethernet (PoE) standard. PoE provides 15.4 watts per port for powering networked devices such as telephones, video cameras, multiple radio IEEE 802.11n wireless LAN (WLAN) access points and video phones in converged network environments. The PoE line card also supports the IEEE 802.3at PoE+ standard, which delivers up to 30 watts of power per port for devices that require more than the 15.4 watts provided by PoE.
At just 14 rack-units (U) high, a single EX6200 chassis can support up to 432 PoE+ ports, delivering the industry's densest PoE+ solution in its form factor class.
At just 15.5 inches deep, the EX6210 is also compact enough for traditional wiring closets, making it ideal for campus deployments.
The EX6200 switches run the same modular Junos OS control plane feature implementation as other Juniper switches, routers and security devices, providing a consistent set of features and capabilities across the Juniper network infrastructure. In addition the EX6200 comes with a rich set of Layer2 and Layer3 features that are supported in the base image without the need of an additional license. These features include IPv6 support*, very extensive Quality of Service (QoS) and a slew of security features in addition to great scalability for MAC and IP addresses.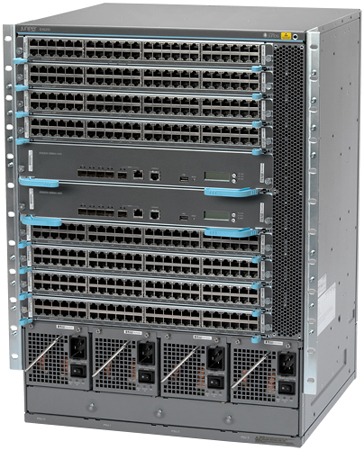 Pricing Notes:
Pricing and product availability subject to change without notice.
Juniper Products
Optics
SFP+ 10GBASE-ER 10GbE optics module, 1550 nm for 40 km transmission
#EX-SFP-10GE-ER
List Price:
$13,064.00
Our Price: $10,516.52
SFP transceiver 10GbE (SFP+ transceiver) long reach (LR) optics
#EX-SFP-10GE-LR
List Price:
$5,249.00
Our Price: $4,225.45
SFP transceiver 10GbE (SFP+ transceiver) long reach multimode (LRM) optics
#EX-SFP-10GE-LRM
List Price:
$2,333.00
Our Price: $1,878.07
Small form-factor pluggable transceiver (SFP transceiver) 10GbE (SFP+ transceiver) short reach (SR) optics
#EX-SFP-10GE-SR
List Price:
$1,983.00
Our Price: $1,596.32
SFP+ 10GbE ultra short reach; 850 nm; 10 m on OM1, 20 m on OM2, 100 m on OM3 multi-mode fiber-optic (MMF)
#EX-SFP-10GE-USR
List Price:
$980.00
Our Price: $788.90
Power Cables
AC Power Cable - US (NEMA 6-20 16A/250V, 2.5m)
#CBL-EX-PWR-C19-US
List Price:
$187.00
Our Price: $150.54
AC Power Cable - US (15A/125V, NEMA 5-15, 2.5m)
#CBL-EX-PWR-C19-US15
List Price:
$76.00
Our Price: $61.18
AC Power Cable - US (20A/125V, NEMA 5-20, 2.5m)
#CBL-EX-PWR-C19-US20
List Price:
$70.00
Our Price: $56.35