Juniper Networks ACX500-O-PoE

Outdoor Universal Access Router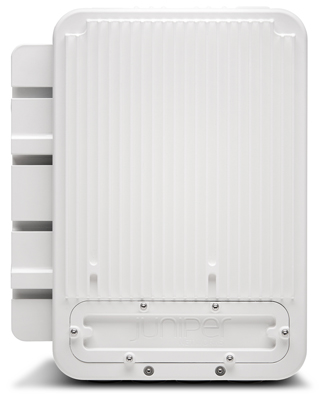 Sorry, this product is no longer available, please contact us for a replacement.
Click here to jump to more pricing!
Overview:
The ACX500 is a small form factor, hardened fanless router that delivers up to 6 Gbps throughput. It comes with an integrated software-enabled GPS receiver and supports a rich set of security, timing, and synchronization features. Additionally, ACX500 has been certified for indoor and outdoor use for utilities and railways. It is ideal for small cell, LTE-Advanced mobile backhaul deployments, as well as use cases in the industrial environment.
The temperature-hardened ACX500 indoor model provides four copper 10/100/1000 Mbps ports and two fiber 1 Gbps ports, while the environmentally hardened ACX500-O and ACX500-O-PoE outdoor models provide three copper ports and three fiber ports. Both the ACX500 and the ACX500-O-PoE support Power over Ethernet Plus (PoE++), with a power budget of 80 watts.
The ACX500 also supports Juniper Networks Junos operating system, extensive Layer 2 and Layer 3 features, IP/MPLS with traffic engineering support, rich network management, fault management, service monitoring, and Operation, Administration, and Maintenance (OAM) capabilities. Using the Junos SDK, it is easy to customize the provisioning and integration of third-party apps and tools.
Product Description
ACX Series Universal Access Routers bring operational intelligence to the access and aggregation layers, providing the option to deploy Ethernet or IP/MPLS infrastructure. High-precision synchronization technology, industry-leading security, and high availability features enhance QoE, while extensive OAM, built-in advanced SLA management, and zero touch deployment capabilities reduce TCO. ACX Series platforms address a variety of service provider use cases—including mobile backhaul, residential and business access, and metro Ethernet aggregation—as well as enterprise use cases for power utilities, oil and gas, mining, transportation, and defense and public safety industries.
Juniper Networks ACX Series Universal Access Routers are Juniper's response to a shift in metro network architecture where the access and aggregation layer is extending the operational intelligence from the service provider edge to the access network. The ACX Series simplifies access and aggregation architectures by eliminating unnecessary layers and network overlays, dramatically reducing CapEx and OpEx. Based on architectural simplification and cost reduction, service providers and enterprises can adopt the true universal access paradigm enabled by the ACX Series. In addition to MEF CE2.0 compliance for supporting both Ethernet and IP/MPLS, the ACX Series provides high capacity and scalability while delivering industry-leading performance with a range of port densities and interface types. Table 1 provides a snapshot of interfaces supported on each ACX Series model. The flexibility and upgradability (mix and match of interface types) makes the ACX Series ideal for a wide range of use cases applications.
Metro Ethernet
Carrier Ethernet services have been growing at double-digit rates over the past several years, and the trend is expected to continue—projected to reach over $70 billion revenue globally by 2020. Unabated network traffic growth driven by video and mobility, the continued shift from legacy TDM to IP, increased adoption of cloud services, and the arrival of smart cities and IoT (Internet of Things) all drive the demand for more Ethernet services given its lower cost per bit and bandwidth scalability. Meanwhile, Carrier Ethernet services are being provided by a wide range of service providers, and the increased competition has been putting pressure on the services price. To maintain profitability and compete effectively, service providers need a scalable universal metro Ethernet infrastructure to serve multiple customer segments with differentiated services.
Business Services—The ACX500, ACX1000 line, and ACX2000 line can be deployed as a CPE or NID to provide L2/3 business access, direct Internet access, and IP services such as IP VPN. The ACX Series features robust OAM and SLA control capabilities; together with automation and zero touch provisioning, the ACX Series enables seamless migration from 1GbE to 10GbE.
Residential Aggregation—The ACX5000 is a perfect candidate as a versatile metro aggregation platform. It supports high port densities and rich features such as Ethernet OAM for E-LINE, E-LAN, E-TREE over Ethernet or IP/MPLS, and IP VPN. The ACX5000 is also an excellent choice as a converged FTTH and metro Ethernet Services solution.
Wholesale Mobile Backhaul—In addition to MEF CE 2.0 compliance, supporting both Ethernet and IP/MPLS, the ACX Series provides high capacity and scalability, complete timing and synchronization, and integrated security and SLA tools that wholesale operators could use to differentiate for mobile backhaul services. Additionally, the ACX500 could be used as a last-mile deployment solution for a small cell as-a-service offering.
Cloud Exchange—High capacity, low power consumption in combination with rich MEF and IP feature set, all make the ACX5000 a good fit as the aggregation platform for a Cloud Exchange service provider.
Mobile Backhaul and Fronthaul
The accelerating speed of innovation is forcing mobile operators to start planning for migration to LTE-Advanced now and 5G in the near future. LTE-Advanced and 5G place more stringent requirements for capacity, latency, synchronization, and security on the network infrastructure.
Equipped with 1GbE/10GbE interfaces and providing up to 60 Gbps of throughput, the ACX Series satisfies LTE-Advanced and 5G capacity requirements. In addition to high capacity and density to address scaling requirements, the ACX Series also addresses end-user quality requirements through highprecision timing, advanced security features, and enhanced SLA management capabilities.
Today, the ACX Series supports all mobile services profiles including 2G/3G HSPA, 4G LTE, LTE-Advanced, and Small Cell. In a typical backhaul deployment scenario, the ACX500 is used as a small cell router and grandmaster, whereas the ACX1000 line, ACX2000 line, or ACX4000 are macro cell site routers. The backhaul traffic carried over Ethernet or IP/MPLS is aggregated by the ACX5000 before it hits the mobile core. In a C-RAN deployment scenario, the ACX5000 could be used for fronthaul in a BBU model.
Enterprise Networking and Field Area Network
As enterprises and governments are embarking on their digital transformation journey, they need to deploy and upgrade their mission-critical communications networks, some of which are located in demanding and harsh environments such as the field area networks for providing SCADA system connectivity. These include power utilities, oil and gas, mining, rail and transportation, defense and public safety industries, etc.
The environmentally hardened small form factor ACX Series platforms deliver comprehensive routing and security services, application awareness and control, with high availability to ensure business continuity and resiliency, and they are perfect choices for supporting such mission-critical communications networks. The ACX Series enables seamless migration from legacy TDM/SONET to Ethernet/IP, with support of legacy services.
Pricing Notes:
Pricing and product availability subject to change without notice.